December 15, 2017
It only took one challenge that had stemmed from our monthly mystery munchies and all hell breaks loose!
The theme of edible flowers has since become my obsession and seeing my potted pansy filled with colourful, edible flowers fuels my need to try something with it even more.
I can't help it. Those flowers were just begging to be plucked, decorated and eaten. And at about 8pm one night, I decided I'm going to have to use my new bundt pan, too! It was time to make magic.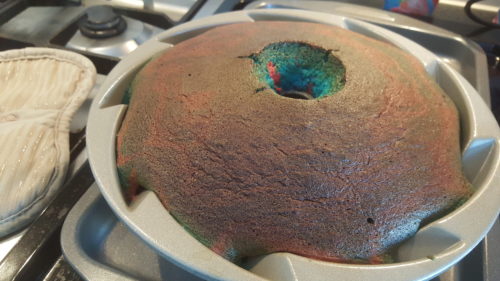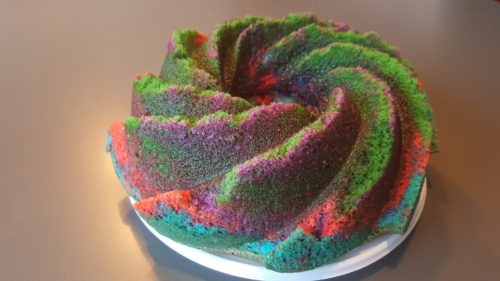 The only reason this cake got so colourful was because of the kids. They were talking about rainbow cake in the day and I had asked them to choose two colours each.
Now that the cake was cut up, it looked like a fake, processed cake! But I assure you it's not. It's soft, spongy and extremely light as I used the good, ole chiffon recipe. I just happened to use the bundt pan. You know. Just because.
Rainbow Bundt Cake
2017-07-15 04:23:04
Serves 8
Chiffon in a bundt. No butter; only light, fluffy, moist and spongy. With an edge. Lots of egdes!
Ingredients
7 large eggs, separated plus 1 additional egg white
2 1/4 cups (225 grams) sifted cake flour
1 1/2 cups (300 grams) superfine white (castor) sugar
1 tablespoon baking powder
1/2 teaspoon salt
1/2 cup (120 ml) vegetable oil or safflower oil
3/4 cup (180 ml) low-fat milk
1 teaspoon pure vanilla extract
3/4 teaspoon cream of tartar (use to stabilise whipping of egg whites and allow them to reach maximum volume)
1 tspn raspberry essence
Food gel colouring
Some pansies!
Instructions
Separate the eggs and place the whites in one bowl and the yolks in another. Cover with plastic wrap and bring them to room temperature (about 30 minutes).
Preheat the oven to 170 degrees C and have ready an ungreased bundt pan
In the bowl of your electric mixer, fitted with the paddle attachment, place the flour, sugar (minus 3 tablespoons or 42 grams), baking powder, and salt. Beat until combined.
Make a well in the center of the flour mixture and add the egg yolks, oil, milk, vanilla extract and raspberry. Beat about one minute or until smooth.
In a separate bowl, with the whisk attachment, beat the egg whites until foamy. Add the cream of tartar and continue to beat until soft peaks form. Gradually beat in the remaining 3 tablespoons (42 grams) of sugar and beat until stiff peaks form.
Depending on the number of colours you intend to use, get ready empty bowls to separate the batter in #4.
Apportion the whisked egg whites into the batter iequally. Add drops of colouring to each of the bowl.
With a large rubber spatula, gently fold the egg whites into the batter just until blended (being careful not to deflate the batter).
To layer, pour the mixed batter (with egg whites folded in) one colour on top of the other until all the batter is used up into the ungreased tube pan.
Bake for about 55 to 60 minutes, or until a wooden skewer inserted into the center of the cake comes out clean. (When lightly pressed the cake will spring back).
Let the cake cool completely before removing from pan (about 1 1/2 – 2 hours).
To remove the cake from the pan, invert it
Decorate with pansies.
Cut and serve!
Notes
This can be stored in an airtight container for a few days at room temperature or for about a week in the refrigerator. This cake can also be frozen for a couple of months though for us, it never lasted more than 2 days.
Adapted from Rainbow Chiffon
Grubbs n Critters http://grubbsncritters.com/