November 29, 2014
Bangkok has, most definitely given me my fair share of hospital visits and funky medical adventures more than I care to know. From the persistent headaches attributed by fever (a long, long time ago!), to allergies and food poisoning as well as bronchitis and some crazy stomach bug that wouldn't go away for months on end, I have begun to think that I may just have been allergic to Bangkok all this while.
My most recent hospital adventure happened just last week. It was one of the most concerning visit I ever had to make after experiencing  a bout of nasty diarrhea that lasted for more than 24 hours with nothing but fresh blood whenever I had to go to the bathroom. There has had been no cramps or stomach pains; just a feeling of stomach discomfort and sheer exhaustion. The bleeding diarrhea had happened without warning. There was so much blood that I thought I could have been menstruating from my anus! (pardon me for the title of this post!)
I felt more peeved than worried initially and  was hoping that it would go away on its own on Day 2. But, when the symptoms persisted the next day, I knew that I had to get it checked immediately. The preliminary prognosis of what I read online on what it could be, did not bode well. Reluctantly, I hauled my bleeding ass to the hospital to get the doctor's opinion.
It did not take too long for the doctor to see me, and she was very thorough with her examination as well as questioning the symptoms and my medical history. It was only a matter of minutes before she strongly suggested that I ought to consider going for procedure of colonoscopy and endoscopy. She wanted to rule out the obvious –  tumours and cancer. I was told that they would have to put me to sleep for such procedures.
Urggh! If there's one thing I hate, I hate the needles being  poked into my veins and being put to sleep. The thought of going under gave me the shrills. My anxiety sky-rocketed as my inner-voice whispered the possibility of me never waking up. But, I knew I had no choice; this needed to be done.
As soon as she sent me off, I was told that I had to pay up, wait for another 2 hours before they would give me laxatives and then wait for another 5 hours before they could start the procedure on me. I wasn't too happy about having to wait around to be honest, and under the stress of having several deadlines to meet at work , feeling anxious on the situation plus having to pay quite a bit of money for the procedure to be done as well as not being able to put my kids to bed again, I became a total moron. I snapped at the cashier and was quite annoyed that I had to wait around for 7 hours and then several hours more in the recovery room.
On the other hand, I know I ought to be thankful that they could schedule me in on the very day itself and not wait for weeks or months to get a date like what usually happens in other European countries.  With a window of about 2.5 hours prior to taking the required laxatives, I decided to go back to the office to catch up with my staff, as well as did as much as I can before I went back again. In a way, that sort of eased-up my anxiety a little.
Back in the hospital, I was placed in a rather small room with a couch and a toilet right after I changed into the hospital garb.. My blood was drawn into several big tubes  and I was given 2 huge bottles to finish up within the hour (it tasted horrid!). I was then required to the toilet for as many times as I could to clear my bowels  (they checked the toilet bowl for progress!) and then waited around again before they put me in the operating room.  I thought I could continue working while waiting, but the toilet visits had made it impossible for me to completely focused on my work.
At promptly 5 p.m, I was brought in and prepped up. They put oxygen in my nose and numbed my throat.  I actually didn't even realised that they had given me sedation intravenously and couldn't even remember when I fell asleep. The last person I saw was the doctor who examined me that very morning and she had seemed a distant away as she made her way towards me. I didn't even had the time to say hi!
When I woke up 2 hours later, Silver Bullet was already by my side.The procedure had been completed and  I was told to rest for another hour. They then  rattled off the blood results to Silver Bullet before they released me with a truck load of meds and a few types of antibiotics. That bit had been quite hazy.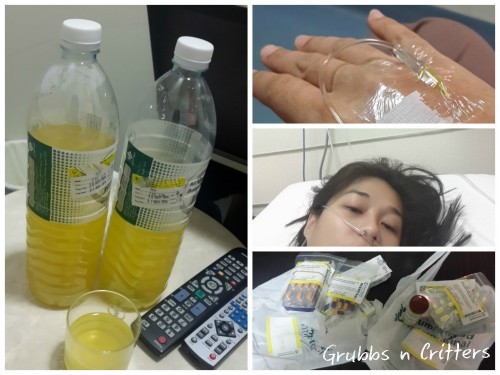 The good news is, I have been cleared from the nasties of tumours and cancer. The bad news is, I have several hermorroids (thanks to 2 pregnancies), a chronic bacterial infection  of the stomach caused by a bacteria called helicobactor pylory (apparently something that is really hard to get rid of) and stomach ulcer. I have been advised to go for another scope in a year's time.
That has been quite a week. In fact, I would be lying if I say THAT hadn't been a personal scare for me. I'm being reminded once again the importance of health and I am grateful than apart from a bleeding anus, I have emerged pretty much unscathed.
Here's to health, love and light. Wishing you good health always.