April 21, 2016
The surrounding area breathed such an air of familiarity as we walked out of the train station. I remember the area very well. I knew the place like the back of my hand. After all, we lived there for a good 20 years.
Having spent most of my childhood and growing up years into my adult life there, it was a home which I have sorely missed. It was my playground.
I haven't been back since my family moved out of their first home they owned years ago. It must have been at least 16 years and I have always wanted to go back there one day. Somehow that never happened.
Until last week.
Last week, I was determined to make it back given that it would be our last trip back to Singapore for the year (and possibly more) before our big move. With Silver Bullet egging on for a little trip down my personal memory lane, I took him and the kids along to show them where I used to live. Mainly for nostalgic reasons.
As we walked down the pavement, I was sucked in with an overwhelming sense of cognizance. I began relating the stories to my kids as we walked the area as I remember every corner, every street and every road that surrounds the neighbourhood.
I remember dropping my bunch of house keys into the 2-meter deep manhole on my way home one day and had called on the aid of a policeman from the nearest police post to help me retrieve my keys as I had feared the wrath of my father if I were to lose them. Two policemen came to help, but because of the depth, the mission was declared unsuccessful after more than 40 minutes of trying. Because of that, I had broke my curfew and incurred double the wrath of my father. It wasn't pleasant.
I remember how I almost got struck by a lightning one evening after school as I ran all the way home from the train station in a torrential thunderstorm along the unsheltered pavement. I saw the lightning hit the ground just a few inches before me. Had I been a few seconds quicker, I am not so sure if I would still be alive. I still remember being soaked to the bone when I got to my front door. It wasn't pleasant, but I was glad I was home.
As we got nearer to my old flat, I noticed that all the windows were closed. It looked like no one was home. We scanned the area, walked around it twice and took some pictures.
The front door…the living room…the kithcen..the balcony…it felt like the house had come alive in my head. I stood at the carpark and the lush-looking garden behind the balcony with a sense of fragile longing. Oh! How I loved the place.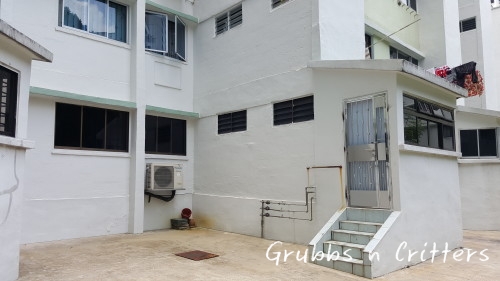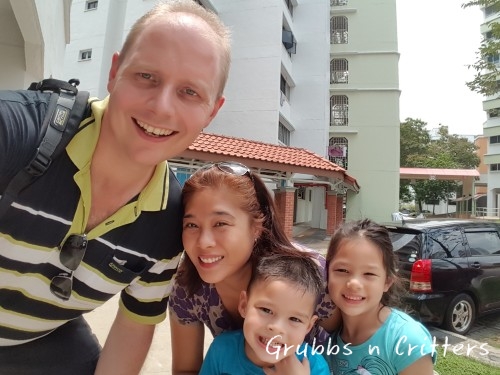 At one point, I rang the doorbell. Twice. I wanted to have a peek just to see what it looks like now. In my head, I was hoping that someone would open the door for us so I could ask for his/her permission to show my old home to my family. Weird perhaps, but being weird was the last thing on my mind because I really wanted to look at it one last time.
It was not meant to be. We left the place with a picture of my old home as the background for a memento.
We walked around a bit more as my sense of longing lingered on. The area has been upgraded, yet it felt like nothing much has changed. We then took the kids to the playgrounds at the park behind my old home.
Despite the blazing hot sun, the kids had a blast running and clowning around in such lush, green and spacious landscape. Their laughter was precious.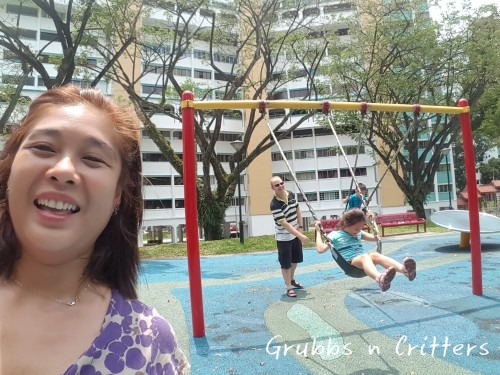 The place and the surrounding areas are as perfect as they can be. The neighbourhood is full of memories. It almost felt surreal to be back. We should have never sold that home. Up until now, almost 2 decades later, I still feel gutted about having to leave our beloved home.
Perhaps it was just as well that no one was in when we were there as I could feel my sadness multiplying had I gone into a home which no longer belonged to us. We left with me feeling so helpless and much sadness in my heart; I almost wish I have all the money in the world to buy it back.
It was full on trip down memory lane back home last week as we filled our days with family fun, being pampered with my mom's special home-cooked meals from the day we arrived till the day we left and a hell of a blast catching up with old friends of 21 years (!), ex-colleagues, former bosses as well as discovering new places which otherwise we would not know existed.
Just like that, we picked up where we left off. It's like I never left. It doesn't get any better than that and it would be hard to fake something like that.
Now that we are back home in Bangkok, I find it hard to believe that I would not be going back to Singapore as often as I used to.
No more business trips back home, no more nothing in Singapore for at least a whole frigging year. Unless something major happened that would require me to return home pronto, it would be a while more before we see this again:
Perhaps it was the crazy heat in Singapore that went straight into my head; that seemed to have caused quite a stir with my bodily function as I go about my day feeling dizzy from a head full of snot with blocked ears and nose and a frog in my throat for a few days now.
Yet, ever so slowly, the dizziness of the reality on this move is now starting to feel more real. The countdown has begun.
Eeeeekss!