July 30, 2015
This has got to be my favourite time of the year in Thailand when these hairy fruits come into season: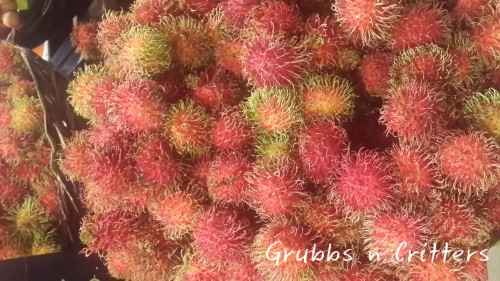 These hairy, weird-looking fruits, commonly known as Rambutans is such a delight! This fruit is native to the tropical regions in South East Asia with Thailand being known as the largest producer of Rambutan and they are usually sold fresh.
I used to be greeted by carts after carts of fruits on wheels on a daily basis as I made my way to the office every morning. A lovely sight I have missed since I moved into a new office building 2 years ago. In fact, I hardly ever passed up on an opportunity to buy at least 2 kg of rambutans and/or lychees (when they were in season) on an almost daily basis when I walked by these mobile carts.Hey! For 20 baht per kg(SGD 80 cents) of rambutans, these babies were definitely worth it!
While hairy on the outside, they are succulent, juicy and sweet on the inside. The fruit flesh is often translucent white with an inedible brown-coloured seed. Sometimes, the juices just spurt out and dribble all over you when you sink your teeth into the fruit to break it open. Of course, you can always use a knife to cut off the hairy skins, but I just prefer to use my teeth!
These days, we just buy them from the supermarket as I hardly ever see them;anymore on the streets in the vicinity of my office. They do tend to be cheaper if bought from the streets.They have just come into season a couple of weeks back and usually the prices get cheaper towards the end of the season.
One of the great pleasures of living in Thailand is the abundance of cheap, fresh, tropical fruits within an arm's reach.One can't help but lust for such exotic beings in the name of gastronomical pleasures.
And, dare I say it: only in Thailand! (This time, in a good way)