May 13, 2012
Swept by a sudden craving for Chicken Rice, I knew there was no way of banishing the thought off my mind, despite being acutely aware that I may have to spend more time in the kitchen than I was prepared for.
I last made one a couple of years back, and I seemed to remember that I spent quite a bit of time in the kitchen…which explained my inertia of making it in the first place for along time to come.
But.
The image of succulent roasted chicken on top of fragrant rice with tangy chilli sauce, continued to dance around in my mind for a few days! And so, being weak-willed, I finally caved in and bought all the necessary ingredients over the weekend for my Roasted Chicken Rice Mission.
With a little bit of twist to the recipe, I actually surprised myself that all it took was less than 40 minutes of prep time in the kitchen. It does look like a lot of ingredients, and therefore seems to be a lot of work. But as I found out, roasting the chicken in the oven saves a lot more time (DUH!) than having to marinade and then fry them.
And I stand corrected: A chicken rice is NEVER just chicken with rice!
Here's what I came up with: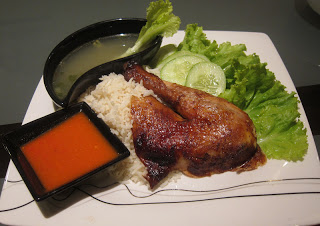 Roasted Chicken Rice
2015-07-13 15:38:17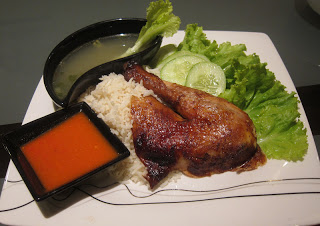 A) Roasted Chicken
1 whole chicken (about 1-1.5 kg)
2 inch ginger, pounded
1 tbsp dark soy sauce
2 tbsp honey
1 tspn salt
1/2 tspn ground white paper
1/2 tspn five spice powder
1 tspn cumin powder
Pandan leaves
1 inch ginger sliced
B) Chicken Rice Soup
2cm ginger
1 clove garlic
1 medium sized shallots
1/s tspn tumeric powder
Chicken neck and feet from the whole chicken
Half a cube of chicken stock
2 tbsp chives, chopped
Some parsley
Salt and Pepper to taste
C) Rice
500 g basmati rice
2 tbsp butter
1.5 cm ginger, peeled
4 mid-sized shallots
2 cloves garlic
Chicken stock water
1 cube of non-MSG stock cube
Pinch of salt
Pandan leaves
D) Chicken Rice Chilli Sauce
5-6 fresh red-chillies
2 cloves garlic
3cm young ginger, peeled and sliced
1 1/2 tspn fresh lime juice
1 tbsp brown sugar
Half a tspn salt
5-7 tbsp chicken stock
Sides/Garnishes
Cucumber, sliced
Lettuce
Instructions
Cut the feet and the neck off the chicken (set this aside to use it for soup). Trim the fat from the chicken, rinse and pat dry. Pre-heat over at 200°C.
Combine pounded ginger, dark soy sauce, honey, salt, ground white paper, five spice powder and cumin and rub it all over the chicken. Leave it to marinade for min. 30 minutes.
When done with marination, stuff the pandan leaves and sliced ginger into the chicken and then put it on an aluminium foil.
Crimp the edges of the foil loosely and stuff it into the oven for 20-30 minutes. Then reduce heat to 170°C and roast for 30-40 minutes. To make the skin a little crispier, I would open up the aluminium foil for about 20-25 minutes (Make sure you check often or there's a risk of the skin being completely burnt!) before covering it up again and let it roast for another 20 minutes.
While the chicken is roasting, prep up the soup by pounding the ginger, garlic and shallots together. Heat up some oil and stir fry the pounded ingredients till fragrant. Add in tumeric powder and stock cube. Stir fry them all together before adding in some water
Add in the chicken neck and feet and boil together (for as long as you want to get a nice broth-like taste)
Then add in parsley, chives and salt and pepper to taste
Wash and drain the rice. Blend/pound the ginger, shallots, garlic together.
Melt the butter in a pot and add in the pounded ingredients till a little browned and fragrant.
Stir fry the rice into the mixture for 5 minutes and transfer it into the rice cooker. Add in chicken stock, pinch of salt and enough water to boil the rice in (you can use the broth of the chicken soup if it is ready). Throw in the pandan leaves into the rice cooker as well.
While waiting for the rice, prep up chilli sauce by blending all of the ingredients in a blender.
Set aside to be served together with the rice.
Here we go! I've got soft, juicy and succulent chicken almost falling off the bones when it was ready to be served.
Grubbs n Critters https://grubbsncritters.com/
Here we go! I've got soft, juicy and succulent chicken almost falling off the bones when it was ready to be served.
Certainly a very toddler-friendly dish as well, as Spud decided that it was perfectly fine by her to live on Chicken Rice and Soup for several days from then on.