January 5, 2018
New year, new beginning. Clean slate is where we shall begin!
Since this marks the first recipe of the year, Gen and I agreed to work on a dish symbolising "new beginning" as the theme for our January 2018's Monthly Mystery Munchies.
When I first suggested this, the idea seemed appropriate and relevant. Easy even (!) since there should be plenty of foods around the globe that would be symbolical of "new beginnings". Shouldn't it?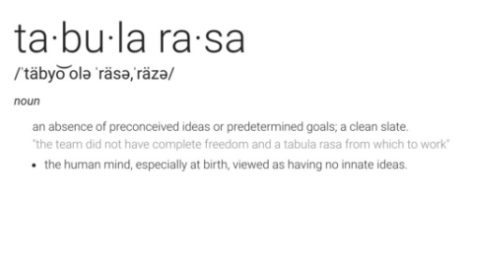 Well…there was and there isn't; I'll tell you why.
After spending days and days researching on this and thinking REALLY hard on the kind of traditional food I've been exposed to when I was growing up that would specifically symbolise a new beginning, nothing concrete came to mind.
Or at least, nothing I was remotely interested to make, in which I could feel a strong connection to comes to mind.
Most of the ideas that floated around have either very strong attachment to the holyness of the various religions (something I do not want to do) or something that's attached to having a baby (not in my current or future state) or just for sheer good luck and requiring lots of work. (plenty of those, but not meaningful enough for me)
This new beginning thing is deep, my friend. Deeper than just food symbolising luck. Deeper than just deep fried batter in the form of Oliebollen (Silver Bullet's specialty) and the significance it always brings during the New Year.
I mean, after such a shit-show of 2017, I want to CONSUME a proper tabula rasa – without spending hours and hours in the kitchen to get something done. Especially (!) without the unnecessary religious anointment and connotations to it.
So how?
After all that research and the agonising I did from behind-the-scenes, I finally stumbled upon a recipe that I could work with. It was easy enough, meaningful enough (sort of) and most importantly, symbolically-neutral of ANY religion.
It comes down to this super light meringue with pomegranate and pistachios: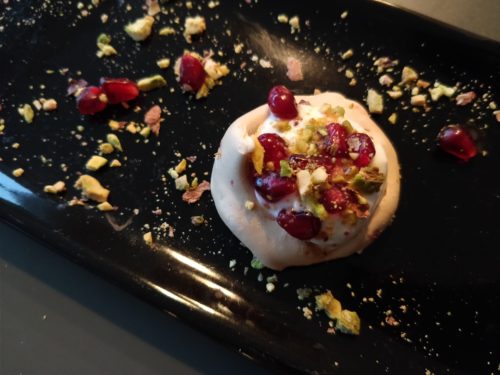 I guess we make food as meaningful as we want them to be. In this case, this particular recipe has the essentials of what would signify a new beginning as it blends the various significance of culture and food into one big explosive flavour:
Round or ring-shaped (Good Luck):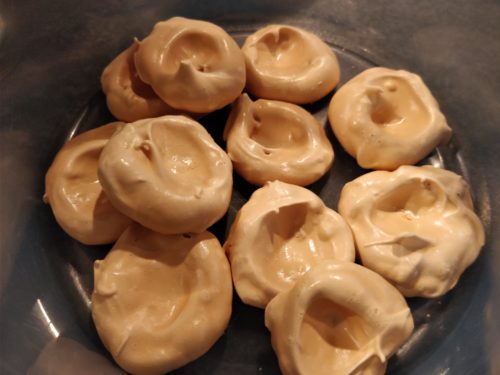 Represents the coming of full circle upon the years' completion. The base of the meringue being round reflects this.
Since this is hand-made, each one is not a perfect circle – an apt symbolism that life is not always perfect; yet we make do with whatever base we choose to work on. We make it light and sweet as possible to make it work.
Pomegranate (Prosperity and Good Fortune):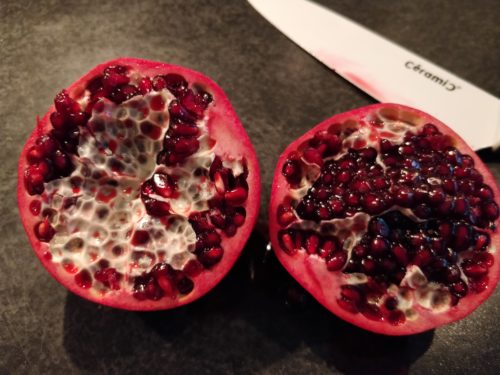 In some parts of Eastern Europe, the pomegranate fruit will be smashed on the floor right in front of the door during the new year. It is believed that the more seeds that get into the door, the more prosperous the household would be. I thought it would be a waste of a good fruit, plus I do not want to be cleaning up the mess and scrubbing off the red stains.
That's why this is a great recipe since the seeds of the pomegranate is put to good use i.e on the meringue and right into your mouth! Good fortune is a no-waste deal.
Pistachio (Health & Happiness):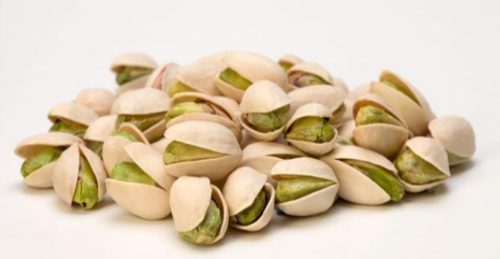 Do you know that in China, Pistachio is known as the happy nut? If you look at the nut, you'll notice that it is always smiling! And of course, if you smile back at it, you can also be certified as a nut.
Let's sprinkle health and happiness in abundance, shall we!
All in all, this captures the essence and the very ingredients of setting in the right foot to a new beginning, isn't it? We start Tabula Rasa here: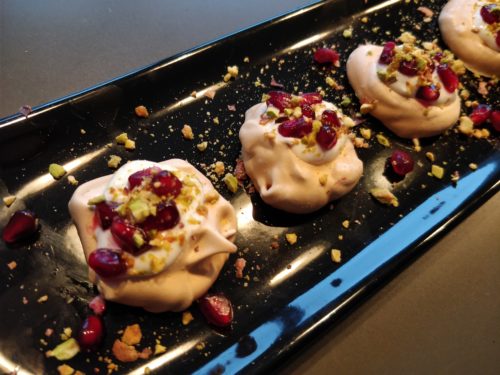 Meringue Tabula Rasa
2017-12-26 22:01:55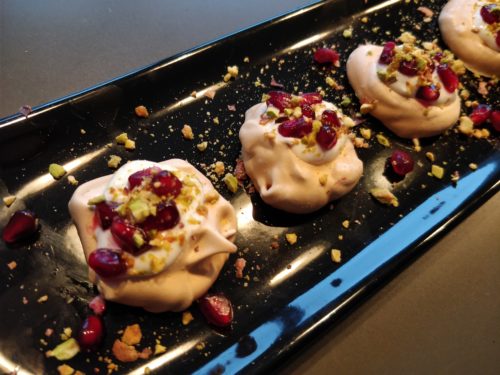 A light meringue topped with honeyed yogurt, pomegranate seeds and crushed pistachos guaranteed to give you an explosion of flavours in your mouth!
Ingredients
4 egg whites
1/4 tsp cream of tartar
3/4 cup brown sugar
4-6 tbsp Greek yogurt
1 tbsp honey
Pomegranate seeds
Crushed/chopped pistachios
Instructions
Pre-heat oven to 120 degree celcius
Whisk egg whites and cream of tartar in a mixing bowl. Make sure that the bowl is clean and completely dry
Once it starts to foam, slowly mix in sugar
Beat the egg whites on high till stiff. Do the "mixing-bowl inversion" test - if the egg whites does not drip when you flip the bowl over, your egg white is ready for use
Line the baking tray with wax paper. You can choose to trace a circle on the underside of the wax paper so you can gauge the size of your merengue
Place a dollop of egg white into each of the circle. The use the back of the spoon to create flatten the center to make a well
Bake for 60 minutes. Then turn off the oven and leave it to cool for another 1 hour to ensure that the meringues are completely dry
Remove the meringues from the tray ans store in an air-tight container
For the filling
Whisk Greek yogurt and honey in a bowl. Mix well.
Spoon the yogurt and place it on top of the merigue.
Sprinkle pomegranate seeds on top and finish off with crushed pistachios.
Serve!
Notes
It is important to ensure that the mixing bowl for the egg whites is clean and dry, else you will never get a stiff batter.
Adapted from Cooking Canuck
Grubbs n Critters https://grubbsncritters.com/
Now that that's done, click away and come with me to check out what our
South African Cheftress
is up to with
her recipe depicting a new beginning
. I bet you it's going to be oh-so-droolicious-good!
If you please, I'm bringing along my Meringue Tabula Rasa to #FiestaFriday so make sure you make it there for more bites, too.
Here's wishing you a very sweet, prosperous life ahead of you filled with the top of health and happiness.
==========================================
Monthly Mystery Munchies features every first Friday of the month in collaboration with Gen, Author of Eat, Play, Clove. Stay tuned with next month's edition from the Grubbs 'n Critters' Kitchen!