August 19, 2013
Jelly, plasticky, bendable flat shoes have always fascinated me.  Unfortunately, I have always found the price to be notoriously expensive that I don't think I could ever justify to myself why I am paying more than 150 (Singapore) dollars just to be able to walk in them.
So, when one Mummy-friend of mine told me that she got a pair of those jellies at a sale for her 3-year old tot, I was excited. I thought, if I can't get one for myself, I would certainly consider getting one for Spud if the price is affordable. She then proceeded to send me a shot of the shop located in Siam Discovery Centre along with a couple of pictures of jelly shoes for kids which were on discount.
 The shop at Siam Discovery Centre, Bangkok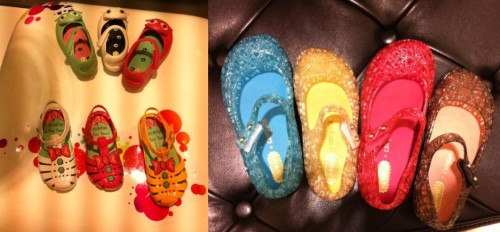 Aren't they not the cutest little things!
I don't think I would want to afford the shoes had they not be on sale.  At 40% off though, it gave me an excuse to get Spud a cool pair of blue jelly shoes. Spud showed an instant liking to the Jellies the moment I showed it to her. I let her try it on when I got home and it took a good amount of convincing before she agreed to take it off her feet and not walk around the house with it.
As for me, I cannot remember the number of times I tried a pair on since I first saw it at a local mall at least 5 years ago. Each time I tried a pair on with the intention of purchasing it, I managed to convince myself that I don't really have a need for it. They were, however, so, so comfy and I remember that they were still pretty affordable then.  By the time I decided to actually buy it six months later at that time, two things happened:
They did not have the ones I really, really liked in my size.
Thanks to my curse, they were taken off the shelves soon after
This time though, I threw caution in the wind and scored myself a pair of brownish-red Jelly.
These jelly shoes emit a very strong, plasticky, weird smell. It sorts of give you a high, although it doesn't beat the "high" I feel from finally being able to buy us a pair of awesome Jelly shoes!
I caught Spud sniffing her shoes the first few days every time she put them on, and when I asked her if her shoes smells yuckky, she gave me an expression as if to say I was crazy and then replied in a matter-of-fact-tone with a, "Noooo. Smells nice."
Brand:Melissa + Campana
Cost (from memory!): 740 Baht (Kids), 1,390 (Adults)
From: Jelly Dreams, Siam Discovery Center
Related post(s):