May 19, 2015
Novelty is two sleep-deprived adults being able to go for a weekend away, ALONE and WITHOUT the kids in tow. And in a different country altogether? It's the next best thing to being a little child in a candy store!
Prague is only a short 1-hour flight hop away from The Netherlands, and having gotten in early (it barely was 10 a.m when we checked-in into our hotel), we had the whole day ahead of us to explore the city in leisure.
Prague surprised me. It has a unique charm about it; a little romantic, ancient yet modern, cosmopolitan yet bursting with so much culture. Things seem to run efficiently and I have been pleasantly bowled over by the level of customer services from restaurants and the hotel which we stayed in.
It was also one of the most crowded cities I have ever came across – perhaps because on the weekend that we were there, 3 things were in motion:
It was a long weekend
The Prague Marathon – Known as the 7th fastest course and voted as one of the most beautiful in the world, it is a significant marathon event with IAAF Gold Label status. Two-thirds of its runners coming from 55 different countries (Source: Wikipedia)
 The Ice Hockey World Championship
It was as if the entire world had decided to congregate in Prague that weekend. Every where around town was littered with tourists from all over the world. It was almost impossible to walk 50 meters without bumping elbow to elbow with the next person walking near you. Most, if not ALL cafes were filled to the brim; so much so that it was a near-impossible task to find a place to sit for a cuppa!
The weather had been great for walking and we walked A LOT (!) on our first day just to orientate ourselves with our new surrounding while trying to get the hang of the city. We passed by many a street-performer in the Main Square which were always entertaining. From giant bubble-makers, to the illusionists to street-musician…they all had been quite entertaining to watch.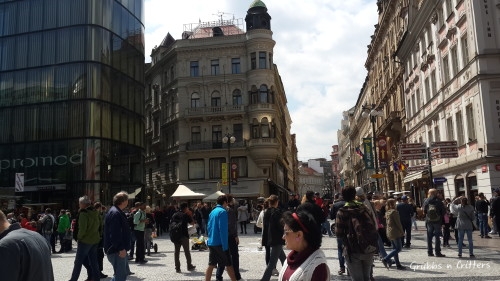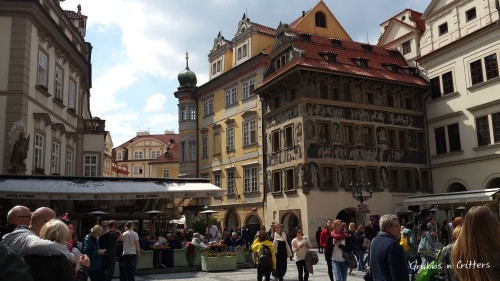 We then walked on till our feet ache; akin to crossing the 516 meters-long Charles Bridge more than 5 times as walking from the main square in downtown Prague and back again.
Being an extremely touristic place, we discovered many guided tours to choose from and one would be spoilt for choice to just make a decision from the many tours they provided. From a 1.5 hour tour around Prague to out of Prague tours – they have it all! You could also take the city tours in style – in chauffeured old cars. For any of those that your heart desires, just be prepared to pay.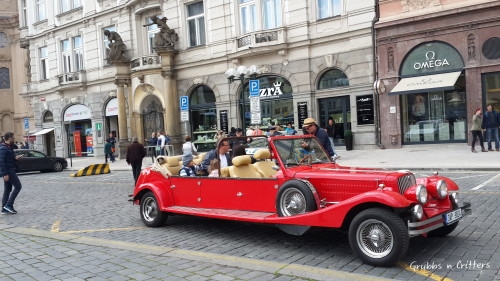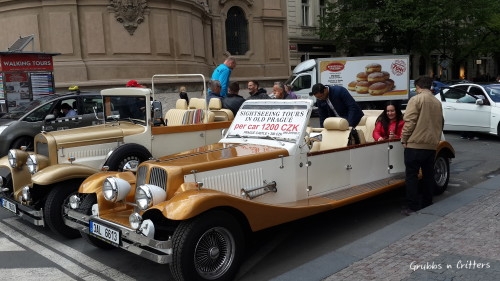 The true heart of Prague beats on the Old Town Square where a lot of hustle and bustle occurs throughout the day, almost hour on the hour. This is where the winding lanes of the Old Town run, spilling out on the beautiful square in Prague. Surrounding it are magnificent architecture and scenery, the multi-coloured houses of many styles as well as the world-famous Astronomical Clock.
The giant Astronomical Clock is a magnificent sight, which, in the Middle Ages was considered as one of the world's wonders with its fascinating mechanical performance. It is apparently possible to tell what day it is and its position in the week, month and year from the clock dial. It's an amazing thing as it also tracks Central European, Babylonian and Sidereal time and the last one in the world to do so.
Likely to be the most visited attraction in Prague, the famous Charles Bridge explodes with vibrant personas of artists and craft sellers on both sides of the pedestrian only walk-way. You can get your own caricatures done here, if you wish so!
The view along Charles Bridge was breathtaking. A walk further along the bridge took to Lesser Town with steep streets, picturesque flood roofs and surrounded by cafes, stylish restaurants and luxury hotels. We stopped by at one of the cafes to rest our feet after hours of non-stop walking while we contemplated our long route back to our hotel. We had a natter with one of the friendliest barman who gave us tips of where we could go to get away from the insane crowd. He did say the crowd that weekend was not normal.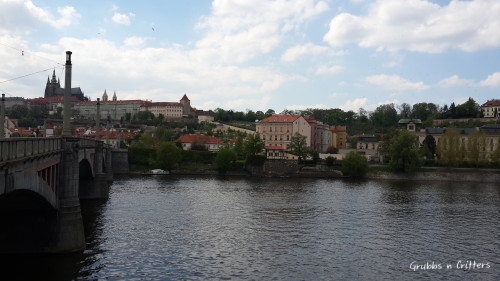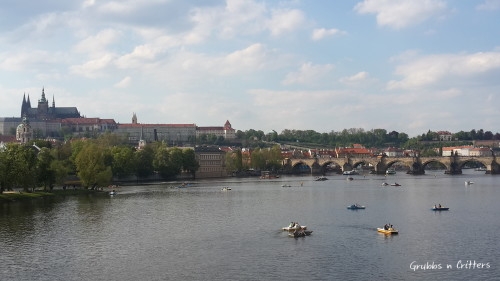 One really has to marvel at the architectural gems Prague has to offer. At least, I did! Not only a city of historical monuments, Prague is also a city of culture and heritage that consumes you wholly, yet could never get quite enough of it, as with tourists like us, we would only have been scratching the surface.
We ended our day with a 3-hour guided micro-brewery tour in the evening where we got to explore the hidden treasures and knowledge of hops, suds and ale : a must-do for the curious enthusiasts out there!
We were, not surprisingly, completely knackered when we got back to our hotel that evening. Our feet throbbed like they never did before and they ached whenever we hit the ground running. At the same time, were just glad that we did not have to run after the kids or worry about them waking us up at 6 ungodly a.m in the morning the next day and that the 2 little imps were safe and sound with their grandparents – completely unperturbed by their parents' absence.
Back in the hotel, I somehow managed to flood our entire room with a turn of the shower knob in a matter of seconds while I was having my shower. Turned out that the bathroom was not well-sealed ; apparently a common occurrence in the hotel and one that we were not warned about.
Silver Bullet had almost slipped and broke his neck when he tried to check on me after he heard me scream…just because he didn't realise how wet the parquet floor was. A panic, a complain, a half-hour clean up and a rather awkward shower experience later, we were informed that they could not move us out as the hotel was fully booked. But they took care of us and moved us the next day, along with smiles, apologies, a box of chocolates and a dose of sparklies!
Such is the Czech's hospitality. More of Prague and other areas we visited in the next post coming soon.
It was only on the 3rd day of our stay in Prague that I remember that Tiny Expat, Yulliya, is currently living in Czech Republic. Had I remember earlier, I would have called her for a cup of cuppa in Prague! Instead, I'm tagging this post (and maybe a few more!) to Tiny Expat's #ShowYourWorld blog event with the following guideline:
tell us about an interesting place – it can be somewhere in your home country or a destination that you visited
instead of just giving us facts about this location, use your words to show it to us as well – the way it looks, sounds, smells, conveying its atmosphere