April 21, 2017
Somebody stop me because I'm on a rrrrrollllllll! Remember this?
Since the Giraffe-Print Inspired Swiss Roll for our Monthly Mystery Munchies barely 3 weeks ago, I've then gone on to continue with my experiment in trying to perfect my craft with various different flavours and colours. My obsession has resulted with 2 more types of Swiss Rolls (to the delight of my family):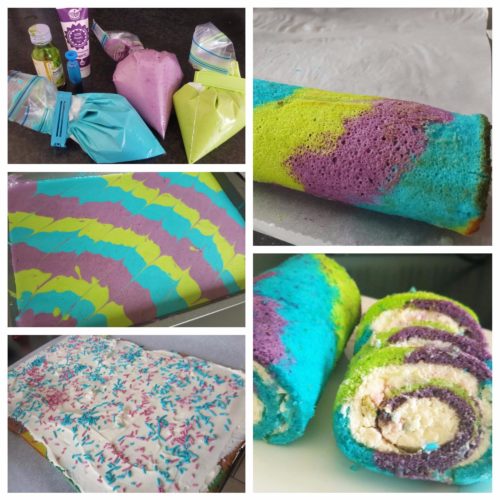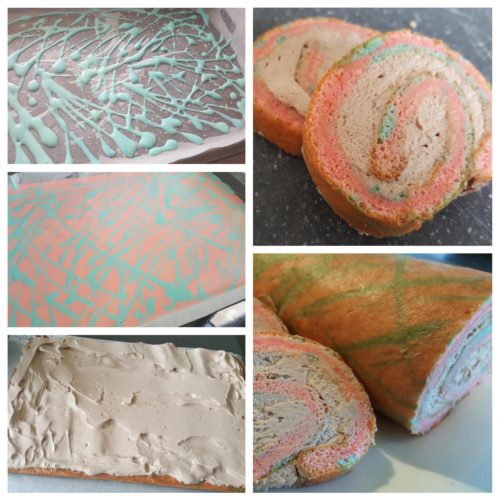 Call me crazy but I have actually enjoyed doing this very much! In times of stress, this is something I do to let off steam as well. It's a great therapy to have.
If you find the previous Swiss Roll recipe daunting, I assure you that this one is a much simpler version. Despite the tantalising colours though (Spud's choice), the Lemon-Lime proved to be a disappointment for the entire household for they found the flavour a little too over-powering.
The Raspberry one however got me a huge encore. The resident critics echoed that it was one of the bestest Swiss Rolls they ever had. Knowing that was good enough for me! And I have to admit that this one turned out so very well that I can't wait to share the recipe with you.
From the kitchen of Grubbs 'n Critters, let me present you with my very own Raspberry Swiss Roll with Light Chocolate Cream for your eating pleasure: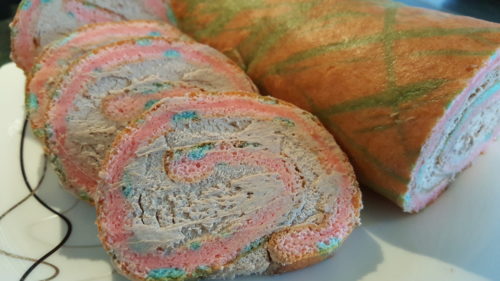 Raspberry Swiss Roll
2017-04-20 04:33:59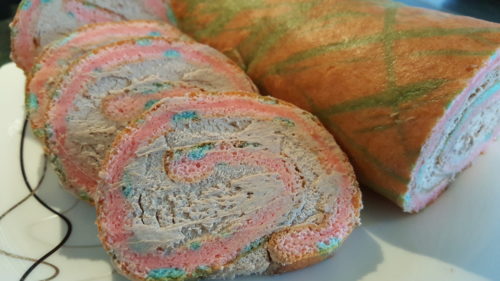 Serves 4
Soft and spongy Raspberry-flavoured Swiss-Roll filled with light almost foamy chocolate filling for your eating pleasure!
The Cake
3 eggs - separate whites and yolks
25ml sunflower oil
30g Sugar (to be mixed with yolk batter)
40g Sugar (to be mixed with whites batter)
20ml Milk
50g self-raising flour
10g corn starch
1/4 tspn baking powder
1.5 tspn Raspberry extract
1 tspn cream of tartar
Colouring of your choice
For Cream Filling
50g sugar
250g whipping cream
100g cream cheese (I used Philadelphia)
1 tbsp cocoa powder
2 tbsp thick chocolate syrup
Instructions
Pre-heat oven at 190 degree celsius.
Line a shallow rectangular tray with wax paper and grease with baking spray. Set aside
Combine egg yolks and the 30g sugar together. Beat well then blend in milk, oil and raspberry extract. Continue mixing till the mixture turns into a pale yellowish colour.
Sift cake flour, corn starch and baking powder together. Add to #1 (egg yolk mixture). Beat well and transfer out if you need to reuse the container for your whites.
Beat egg whites with cream of tartar. When ti gets a little foamy, add in the sugar. Whisk well till it forms a stiff peak.
Add in 1/3 of the egg white mixture into the egg yolk batter. Fold in gently. Then the next 1/3 and fold again. Then fold in the remaining 1/3 and ensure that the batter is smooth and mixed well.
If you intend to make a patterned roll, scoop out about 3-4 tbsp from the folded batter, add colouring of your choice and mix well before you put it into a ziplock or piping bag. Set aside in the freezer for about 10 minutes. This makes sure that it won't be too runny. After that, pipe the design to your heart's desire and pop it in the oven for 2-3 minutes. Top the rest of the batter over it, bang and bake!
Otherwise, add in colouring of your choice and just pour all of the batter into the pan.
Even out the surface and lightly bang the tray on a hard surface a few times to remove trapped bubbles.
Bake for 10 minutes
While the pan is in the oven, whisk cream cheese, sugar, cocoa powder and chocolate syrup for 2-3 minutes. Then add in the cold whipping cream and whisk till the texture just about stiffen and gets a little fluffy. Do not over-beat. Set aside in the fridge for use later.
When the cake is ready, flip the cake over and transfer to another wax paper. Peel off the wax paper from the other side
Generously spread the cream all over the cake. Slowly and gently roll the cake up tight
Seal it on both ends with the wax paper and chill it for half an hour before serving.
Enjoy!
Notes
Best served chilled! Be warned: Once you are hooked, there is no turning back.
Grubbs n Critters https://grubbsncritters.com/