September 29, 2017
Have you ever heard of a dish called Manchurian Chicken? If you haven't, now you do.
As I found out many years back, this dish embodies Chinese influence and is largely popular only in India. As an old Indian friend of mine once said, "There's nothing remotely Chinese about Chinese food in India. Somehow they call it Chinese because it's got Manchurian in there!"
Why Manchurian? I really have no idea. I do know that it's a pretty darn good dish. We used to add it to our list of food to order whenever we decided to get a home delivery of Indian food during our Bangkok days.
We hardly ever do home deliveries these days. In our little hole, it doesn't exist; a perfect excuse to try make our own Manchurian chicken!
The only thing I did different from the original version of the Manchurian gravy was to add honey dew (otherwise also known as honey melon) to my cooking. Only because we happened to have an extra ball of melon lying around. We were melon-ed out by then and there was no reason for waste.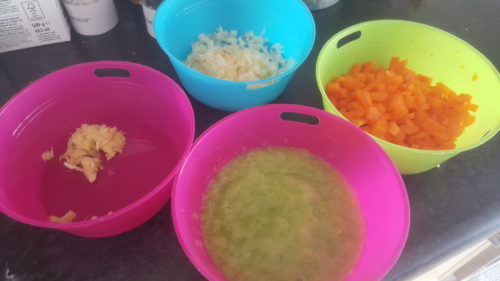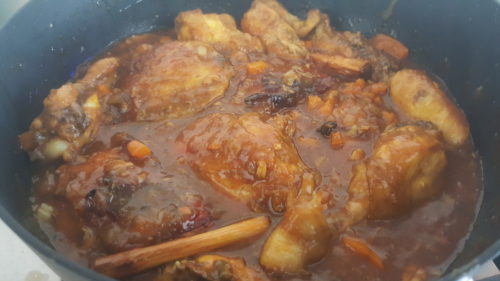 There's something sinister about the soya sauce, tomato ketchup and chilli combination. The additional but optional ingredient of melon gave a natural sweetness and a light taste to it. It's a wonderful dish to have every once in a while.
Sold yet? Give it a go: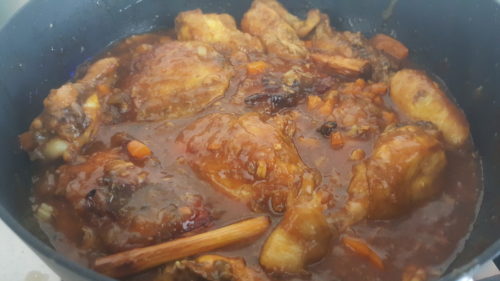 Honey Dew Manchurian Chicken
2017-04-08 03:55:11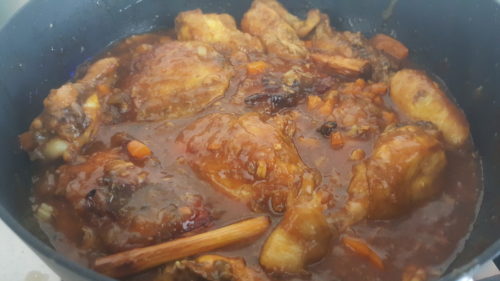 Serves 4
A unique Chinese-Indian fusion with the eclectic add-on of honey dew and lemon grass.
Ingredients
3 inches ginger
3 cloves garlic, pressed
Half an onion, chopped
1 green chilli, chopped
Fresh spring onion, chopped
1 carrot, chopped
1 lemon grass, bruised
Half cup water
2 tspn corn flour
Olive oil
Marination
8-12 pieces of chicken
1 egg
1 tbsp soya sauce
4 tbsp corn flour
2 tbsp flour
Salt & pepper to taste
Gravy
1/4 cup tomato ketchup
1 tbsp soya sauce
2 tbsp chilli sauce
Half a lemon, squeeze the juice
3-4 slices of honey melon (about 2 cm thick each), mashed into pulps
Instructions
Coat the chicken pieces with all the ingredients for marination. Set aside for half hour. Then fry the chicken in hot oil till a little brown. Drain and set aside.
With the remaining oil (about 3 tbsp), saute ginger, garlic, onion, green chilli and carrots for about a minute.
Add all the ingredients for the gravy. Stir well.
Then mix in the bruised lemon grass. Add water. Let it bubble up and add corn flour to thicken
Add the fried chicken. Mix well with the gravy.
Sprinkle spring onion over
Serve!
Notes
The use of melon and lemon grass are optional. If no melon is used, add in about 2 tspn of sugar for sweetness. Feel free to substitute lemon juice with vinegar if you prefer so.
Grubbs n Critters https://grubbsncritters.com/