January 22, 2016
It took a trip to Tanzania back in 2009 for my very first taste of French Onion Soup. It was made by Chef Heaven, a very special chef whom we had the privilege to meet. He had cooked for us during our stay at a nice little cabin that was located near the foot of Mount Kilimanjaro. He had single-handedly made an onion-hater a convert to French Onion Soup, and since then so far, nothing has come close to Heaven's (pun intended).
I used to detest onions. A Lot. My mom used to sneak those things in her cooking by blending them all up so I have no way of picking out the onions. The only reason I warmed up to them was because I started to cook on my own because it's almost impossible not to any onions at all in any of my cooking. I still refuse to eat them raw, but I've come to appreciate them better in the last decade.
My first attempt at French Onion Soup shocked many, including myself. And because I loved what Chef Heaven did so much, I just had to try replicating his onion soup and came up with my own version of French Onion Soup several years ago. I have only made it several times.
Recently, I started craving for it and I thought what else I could do with it to make it a little different. I decided to muck about and added chicken to it. Then I let it simmer:
Just look at that! Even without the cheese toppings, it already is looking quite appetizing. This was an absolute delight – as concurred by several people I have fed. Or maybe they were being too polite, but then again, the soup was gone pretty quickly, too.
So, if it delighted them, it delighted me too; and I sure do hope you will too!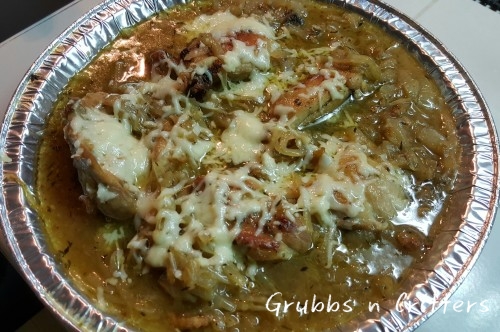 French Onion Chicken Soup
2015-07-14 15:48:44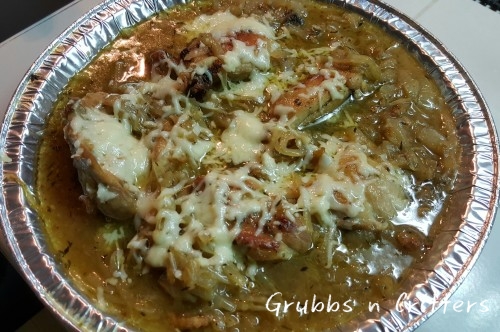 Serves 6
A savoury, hearty French Onion soup with chicken glazed with melted cheese
Ingredients
6-8 large yellow onions, sliced.
Olive oil
1 tbsp unsalted butter
1/4 teaspoon of brown sugar
2 cloves garlic, minced
2 cubes beef stock, 1 cube of chicken stock
2 bay leaves
1/4 teaspoon dry thyme
2 tbsp dry sage
1 tspn mustard
2 tspn Worcestershire sauce
Salt, pepper, oregano
1 1/2 cups of grated mozerella cheese, parmesan and cheddar
For the chicken
12 pieces of chicken breasts with skin
1 tspn Worcestershire sauce
Salt & Pepper
2 tbsp butter
Instructions
In a large saucepan, sauté the onions in the olive oil and butter until well browned (but not burnt) about 30-40 minutes (or longer). Add the sugar about 10 minutes into the process to help with the carmelization.
Add garlic and sauté for 1 minute. Add the stock, bay leaf, thyme, oregano. Cover partially and simmer for about 30 minutes until the flavors are well blended. Add in mustard and Worcestershire sauce and simmer.
Season to taste with salt and pepper. Discard the bay leaf (optional) and continue to simmer
Separately, prepare the chicken and rub Worcestershire sauce, salt and pepper on the chicken.
Heat up a skillet and melt the butter. Fry the chicken on both sides for about 10-15 minutes until golden brown and the skin, crispy
Remove the chickens from the skillet and add them to the simmering soup. Cover and continue to simmer for another 20 minutes.
When you are about ready to serve, transfer the soup and the chicken into an over dish. Top it with cheese.
Grill them in a hot oven until the cheese bubbles and is slightly browned.
To serve, ladle the soup into the bowls or casserole dish.
Enjoy!
Notes
You can choose to opt for chicken breasts without the skin as a healthier option. I just love, love, love crispy chicken skin and I find the texture after putting them in the oven before serving appealing.
Grubbs n Critters https://grubbsncritters.com/