November 13, 2015
This week is a treat for food and recipe lovers with not one, not two but THREE recipes being featured. Is this turning to only a food blog, you ask? No way! I've got other crap I still want to write about, and this week just happened to be a bonus with food. Besides, no one would ever get bored with food. You know, the kind of food that crazy foodies would like to try?
Even if you aren't one of those crazy foodies, just stare at the pictures and better yet, tweet or pin them!It's Friday the 13th, so leave some good food vibes around to feed that restless, hungry souls.
This week's Friday Flavours is a spin-off from the Monthly Mystery Munchies challenge where I had pretty much used the same base of cooking my fish ingredients that is not commonly used on or with fish. If you missed the post, I have used Golden Kiwi with the fish. I also decided to buy some tofu skins in which I stuffed the sauce and fish with rice into the skin and served them on the side.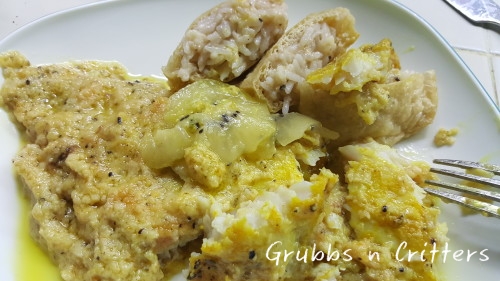 It's not something I have attempted before and I did not use the sushi-type of rice, which I probably should. This really was done on the hindsight as I saw some tofu skins at the supermarket when we were doing our weekly groceries and I thought that I'd just buy them, in case I would have some use for it. Turned out, I did! Who'd have thought!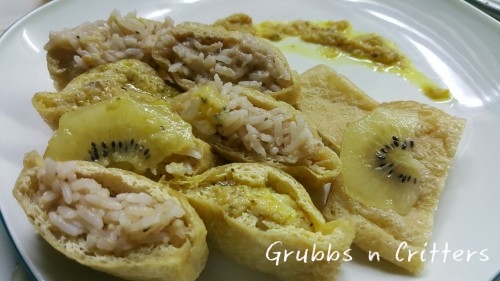 Stuffed Tofu
2015-11-07 01:24:07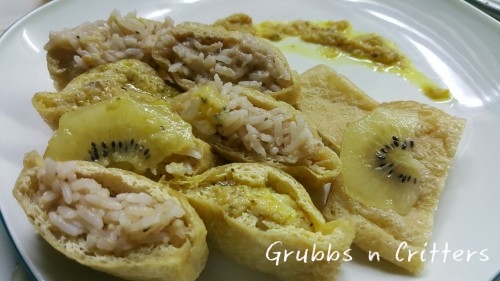 Japanese-inspired Inarizushi and used in many forms in Japanese cuisine
Ingredients
Steamed Rice
Tofu Skins (Store-bought)
Cream Sauce
2 golden kiwis, skinned
1 clove garlic
1 tspn mustard sauce
2 tbsp butter
3 tbsp lemon juice
Half an onion, chopped
1 cup parmesan cheese, grated
Some leftover cheddar cheese (optional)
2 tbsp dried sage
1 tspn dried dill (optional)
Salt & Pepper to taste
Instructions
Steam a half a cup of rice (this is the only cooking time required and should not take more than 15 minutes if using a rice cooker)
As the rice is cooking, blend all the ingredients for the cream sauce together. (I used the leftover sauce from the fish)
Once the rice is cooked, mix the cream sauce with the rice
Cut the tofu skins into half, and slit along the cut side to make a pocket
Stuff the rice mixture into the tofu skins
Serve
Notes
If you wish, you can crumble some of the fish made from the fish recipe and mix it into the rice and cream mixture before stuffing it into the tofu skins
Grubbs n Critters https://grubbsncritters.com/