April 29, 2016
With Silver Bullet travelling, I seized the chance to cook something I absolutely like and hardly ever get the chance to cook when he is around because Master Silver Bullet thinks they are smelly. He will complain big time.
I beg to differ really. It's not that they are smelly; it's just that his nose is untrained to appreciate the wonderful aroma of dried ikan bilis (anchovies).
Yeeessss….the fabulous anchovies. Hmmmm…yummy stuff that's ingrained in my Asian roots. They are so good when cooked with sambal (chilli paste) and if fried, they can be really good for snacking, too.
So in his absence, I get to stink up the house to high heavens.
Do you know what else would ikan bilis be good with? Fried rice, of course! It's comfort food for me. It's a taste only fellow Singaporeans can understand and appreciate. A dish Silver Bullet loves to hate!
But that don't matter because he was not around when I made this. I relish my ikan bilis fried rice and this time, I made it peppery using both white and black pepper. I added some green chillies too.
Ahh! Taste of home.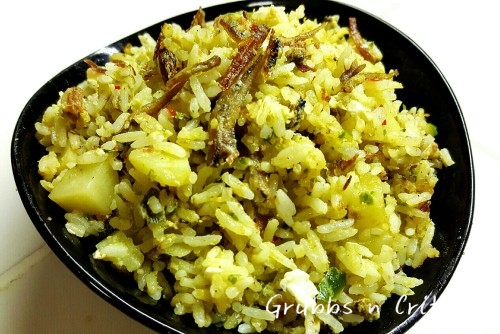 Peppery Fried Rice with Anchovies (Ikan Bilis)
2016-04-07 00:12:18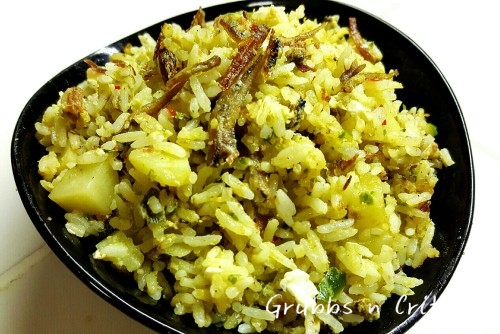 Serves 2
A delicious, peppery comfort food
Ingredients
Half yellow onion
6 green chillies
1 red chilli
3 garlic
1 potato, cubed
A handful of dried anchovies
1 tspn black pepper
1 tbsp white pepper powder
2 eggs (optional)
Cold boiled left-over rice
Salt to taste
Instructions
Fry the anchovies in 4-6 tbsp of olive oil. When it turns brown, remove from the pan and set aside
Microwave cubed taters in water for 3-4 minutes to soften it. This would be quicker.
Blitz onion, chillies and garlic in a blender. Add a little water for easier blend.
Using the remaining oil from the pan, pour all of the blended ingredients and fry for about 5 minutes or until it gets a bit dry. Careful not to burn it
Add in black and white pepper. Stir well
Mix in the taters for about 2 minutes. Add in salt to taste
Add in rice and mix well
Incorporate the anchovies into the mixture and mix well
Make a well in the centre, add in the eggs and cover for about 20 seconds
Open the cover and mix well for another minute or two
Turn off the fire and serve!
Notes
Feel free to add in your choice of veggies. You can also reduce the chillies used, but with the green chillies as the base, this fried rice was not spicy at all!
Grubbs n Critters https://grubbsncritters.com/