August 12, 2016
A few rotten over-riped bananas have been lying around at home and the kids have refused to touch them, let alone eat them. Can't blame them. Those bananas were all black, soft and to the naked eyes, unfit to be eaten. The flies have been drawn to them.
The thing was, I cannot stand to throw them away. They may have gotten royally black on the outside, but when the skin is peeled off, they still look pretty good on the inside, albeit a bit mushy. Rotten Over-ripe bananas are always good to have at home because they make a very good ingredient for banana bread.
It has been a while since I made one too, perhaps more than 2 years ago.
At one point, I made so many of them week after week to get that Banana Bread perfection and the whole family OD-ed on them. I then started making Mashed-up Banana Balls, otherwise known as Jemput-Jemput Pisang and staved off the whole banana bread thing.
My banana bread has since has taken a massive hiatus and almost forgotten.
This time, not only do I have awesome black-looking bananas, I also happened to have a bunch of dates lying around waiting to be eaten. Cue inspiration from A Pug in The Kitchen's Banana Bread that used enough granola to sprinkle on top, I'm roaring to go! You really need to check out her blog and follow her if you will for an awful lot of other mouth-watering recipes.
Me-thinks that there can never be enough of banana bread recipes. Also, I love how it just splits at the top when baked. That's satisfyingly gratifying.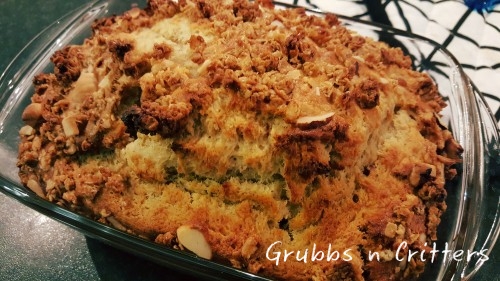 This is a quick–dirty-lazy version as the recipe is slightly different from the one I had so-called perfected before without the use of sour cream. It's also a great recipe since it does not require the use of a mixer or anything that's too complicated. Not too much mess or clean up required.
Granola Topping Banana-Date Bread
2016-06-22 05:37:05
Serves 6
A quick-dirty-lazy but moist banana bread packed with sweet dates and topped with granola and nuts
Ingredients
3-4 very ripe bananas
5 tbsp butter, softened
Half a cup of granulated sugar
1 egg, beaten
1-2 drops of vanilla extract
Half a cup of dates, chopped
1 tspn baking powder
Pinch of salt
1.5 cups all purpose flour, sifted
A handful of granola with nuts
Instructions
Pre-heat oven at 180 degree Celsius
Mash all the ripe bananas in a mixing bowl till smooth
Stir in the softened butter into the banana and mash well
Add in baking powder, salt, sugar, dates, vanilla extract and beaten egg. Mix well.
Slowly add in the flour till you get a nice batter
Transfer the batter into a deep baking pan. Top with a handful of granola
Bake for about 35-40 minutes or until it's nicely browned and the stick comes out clean when you insert into the loaf
Remove from the oven to cool. Once cooled remove from the pan.
Transfer the bread to an aluminium foil to keep the bread until you are ready to eat.
Otherwise, slice that baby up and serve!
Notes
Feel free to add more sugar (1 cup) if you prefer a sweeter bread.
Grubbs n Critters https://grubbsncritters.com/
Using dates adds natural sweetness to the bread without having to use more sugar and it's a great addition to the overall taste. The crunchiness from the granola is just heavenly and truly enhances the overall taste.
So, we have (almost) rotten bananas, dates and granola bread all moist and fluffy? Sign.me.up.