October 14, 2016
How is this even possible – cheeseburgers and muffins? Or rather, cheeseburgers in the form of muffins; in mini, bite-sized forms at that.
You know how eating whopper-sized burgers would always end up in a messy affair, yes? But with these mini cheeseburger muffins, I assure you making a mess is the last thing you'd have to worry about.
No messy assembled vegetables, no rogue slices of onions and no dripping sauces.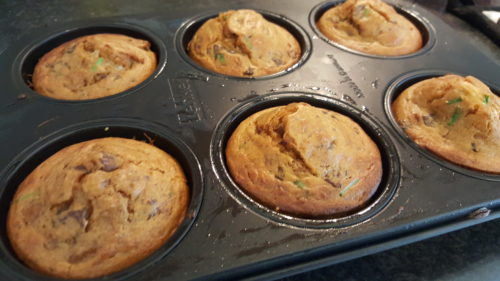 Nothing too difficult too. Just ground meat drenched in chipotle peppers, gooey cheese and a few other condiments to go along with it. Mix them all together, put them in muffin trays and pop them in the oven.
So here we go. Only gorgeous goodness for this week's madness!
Chipotle Peppers Mini Cheeseburger Muffins
2016-07-28 20:41:51
Serves 4
Easy to make mini cheeseburger muffins for snacking or served for parties at home.
Ingredients
500g ground beef
1-2 tspn butter
1 yellow onion, chopped finely
Half a pack Chipotle Pepper Sauce
3/4 cup self raising flour
1 tspn baking powder
1/4 cup low fat milk
1 egg, beaten
1.5 cups shredded cheese (I used old gouda)
1 tspn cumin powder
1 tbsp fried shallots
1 tbsp fresh parsley, chopped
1 tbsp spring onions, chopped fine
Enough cheddar & mozzarella cheese for fillings, cubed
Pickles (optional)
Chilli Sauce orTomato Ketchup
Instructions
Pre-heat oven to 180 degree celsius. Spray the muffin trays with baking spray
Heat up a pan with 1-2 tspn of butter. Saute the onions till translucent and then brown the minced beef
Add in the chipotle peppers. Stir well. Cook on low till the liquid from the beef in the pan dries up. Turn off the fire and set aside to cool
In a separate bowl, combine flour, baking powder and cumin powder.
Then add in milk, egg, fried shallots, parsely and spring onions into the dry ingredients in (5).
Stir in the shredded cheese and the cooked meat in chipotle peppers. Mix well. You'll get a nice, thick, liquidy batter filled with meat.
Pour the liquid into the muffin trays, just enough to cover half of each well
Top with the cubed cheeses on top of that, then cover with the more batter.
Repeat till all the batter and cheeses are used up.
Bake in the oven for 20-25 minutes.
Serve with pickles, Chilli Sauce or Tomato Ketchup
Notes
The use of fried shallots was my addition to give the recipe a little twist. Feel free to omit it if you can't find any but I do find that it adds on to the overall flavour.
Grubbs n Critters https://grubbsncritters.com/
They make pretty darn good snacks, too!
Plus, if you are like me who generally does not like to eat burgers and I know some kids like that as well (both our kids don't fancy burgers), this is a good way to convert them.
For those at home, enjoy! For the foodies who are about to party, I'm bringing these over to #FiestaFriday and #FoodieFriday