May 2, 2016
From doodles, scribbles and random "I love yous" notes on rogue papers into make-shift hand-made cards, Spud has also been helping herself to our stacks of blank A4 papers which we kept on the printer that was meant to be used for other important things.
These days, finding pieces of paper lying around at home that were taken from the sacred printer is a common sight. We should be annoyed with the kid for wasting good paper and for handling our one and only printer quite roughly (sometimes, we see papers get stuck in between. Urghh!), but after discovering that those papers were usually filled with sentences that make some sort of a story, we could hardly get angry with the kid.
Instead, we are beaming at how quick Spud is grasping (literal) story telling with very little adult help. She's keeping herself busy with colouring and scribbling and is always showing us her work after she's done with it.
This was one of the first few stories she had painstaking wrote out:
I'm guessing that given the academic push kids are facing these days, most kids her age at about 5-ish would be able to do so and may have already gotten far, far along than this. For us, though, the academic push has never been our priority and we are always a little surprise to see milestones like that without having to push her too hard. We are a little slack that way.
As Spud has begun to show the love for writing at such a young age by taking papers which she should not be taking in the first place, I could and I would only want to fuel that interest of hers.
Besides, we have tonnes of nice notebooks lying around at home (I'm quite a sucker for hoarding stationery) and there are a few that could be put to good use.
Spud made her choice of a notebook from the variety I kept and she's using it well. Every other day, I would see new entries of random stories.
They are mostly quite factual and when I encourage her to write about her day, I got a quizzical "why should I even do that?!" question. She would refuse and will be quite adamant about wanting to write about other things. She thinks that "other things" are stories, but things about herself are not.
Whatever, kid.
Some of her spellings are still quite off and I find that quite amusing. But that don't matter. What matters is that she is enjoying the writing itself. She brings the book with her to everywhere she goes. And, whenever we tell her that she did not get some of her spelling right, she'll correct them accordingly.
This was my recent find in one of the pages. The spelling errors are just too cute!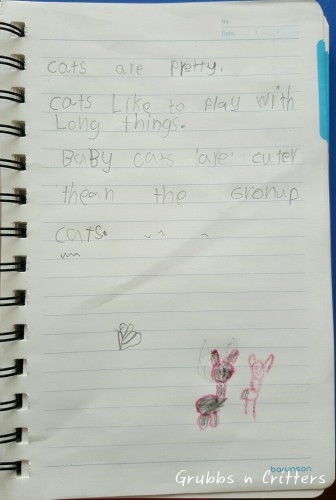 I don't know how long this would last and secretly, I'm hoping this isn't just a phase and one that would continue for a long time to come.
We'll just gonna have to continue to fuel that passion of a young, budding scribbler and I'm up for it!