April 27, 2017
Have you ever wondered what your kids do to their shoes when you are not looking? Has the thought of them secretly nibbling on their shoes when you are not with them ever crossed your mind?
Yeah. I wonder too. Actually, scrap that.
Because, given the frequency we ended up at the shoe-store almost on a monthly basis and sometimes, just 2 weeks apart from the previous shoe purchase, I am convinced that our kids could very well be snacking on their shoes.
And to be honest, I am getting a little fed-up with the frequent trips to the shoe stores especially since a decent pair of shoes for the kids can cost quite a bit!
So what's a mother to do?
If you are anything like me, you'll let your kids walk around with battered shoes. You'd give no regard to how shitty the shoes look or how the soles wore out or even torn because for all you care, their little feet are still very well protected and the shoes still fit them really well.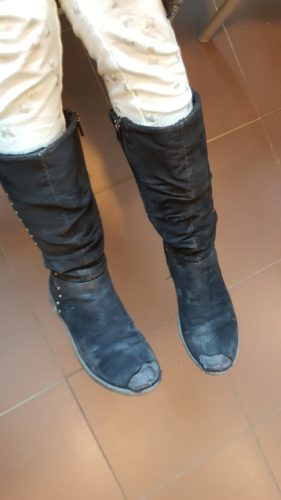 That's the shoes Spud has been wearing. This one actually looked better than it was 2 days ago because my mother in-law has taken the initiative to cover up the gaping outer layer exposing the white beneath it with a black marker. I should be offended but I'm not.
Rather when she told us about it, I thought that it was hilarious! In her words, she was embarrassed that Spud had to wear such a battered looking shoes when she took them out and about.So she went all out for it with a black marker so her grand-daughter would look like she's wearing at least a half-decent shoes.
I can't blame her; Spud's shoes really look hideous!
But hear me out on this one: It's not because we stopped buying her shoes or that we can't be bothered with how she looks. In fact, she has 2 other new pair of shoes – one from her Oma from about 2 months back and another pair we bought just 2 weeks ago for her.
None of those flew with Spud because Spud being Spud likes wearing her high boots as she finds it to be the most comfortable to walk, run and climb with. Rain, hail, snow, high winds or shine, Spud has baptised this pair of shoes as her trusted ally.
She almost never go anywhere with it no matter how many other times we reminded her of her other pair of shoes and how battered this pair is for her Only when she feels like wearing her sneakers would she put them on. Otherwise, it's her and her trusted black boots.
This would be one of those things where I'd let her be. I choose my battles. For Spud, I think it's a virtue that she doesn't really care how torn and tattered it looks as to her; it's not leaky, she still could wear it and it's comfort that she's after.
In a way, I can't blame Spud for I know exactly how she feels about comfy shoes which you are attached to. I have the same thing. And believe you me it's not like we have not tried to look for something similar. It's been months of search yet so far we can't find any.
As far as I'm concerned, she still can go a little bit more with the boots. But that's not to be since my mother-in-law has explicitly forbid Spud to continue wearing her boots. She made no qualms with her warning that she never again want to see the boots, nudging us to leave her boots behind to be thrown away.
To be fair, the boots do look terribly horrible and I agree they have to go. Yes, they are going to be gone. Eventually. Gone. Yes, really.