March 28, 2016
When it rains, it pours!
And when the rain comes in the form of nominations with three of them all within the same week, I am not about to complain. How can I? Award nominations are awesome!
As I do my little happy dance, here's a huge, big, fat thank you to two of my most favourite Daddy Bloggers: Eric aka Stomper Dad over at All's in A Dad's Work and Ah Dad over at Ah Dad who needs the funnies because his kids are now teenagers for the Blogger Recognition Awards. If you are not following these two dads yet, you really, really, really should!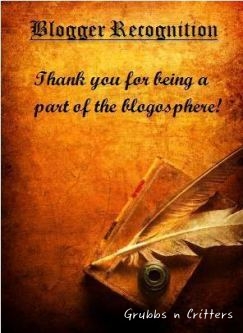 The Rules

Thank the person who nominated you and give a link to their blog. Done
Display the award on your post and write about it. Done
Give a brief history on your blog itself. See below
Offer a piece of advice to new and upcoming bloggers. See below below

Select 10 other bloggers you wish to nominate. See all the way below
A Brief History on Grubbs 'n Critters
If you glance to my sidebar, you'd notice that my archives started way back in 2008. Blogger was my platform of choice and the only reason I started the blog in the first place was to update my family and friends when I moved away from Singapore. I could not be arsed to email or call them frequently to repeat myself 100x to different people.
Part of me did not really want to go "public" as I did not think that I am good enough to be "out there". My blog on Blogger was an island for a very long time and besides, I never really thought that anyone would be bothered with my nonsensical ramblings and rants. I continued writing for a REALLY small circle of the audience and I was OK with it.
In 2013, I started on a thought piece. It led me to reflect and ponder on reflecting and pondering, then decided to switch over to WordPress and straight to self-hosting without any clue as to what I'd be getting myself into. I figured that apart from having to fork out a small investment, I got nothing to lose: I don't have to worry about losing my contents on a free platform should free changes to something else, and I can use it for the kids' unfortunate inheritance – both Silver Bullet and me have got no real money for them when we die.
Grubbs 'n Critters was born and hosted in a new home that you see today on 3rd October 2013. The problem was I did not know exactly where to start to get followers and herein lies the fault: I did not spend the time to connect with other bloggers because I just didn't know how; and feeling too conscious that I'd make a fool out of myself. It wasn't until 2014 that I decided to grow some balls to get myself out there.
It has been a slow ride on a self-hosted site, but I'm not in a hurry to chase numbers. What I'm loving about this journey are the blogging friends I have made, the amazing blogging community and all the things I have learnt from reading the blogs I have followed. I haven't looked back since.
My attempt on tips to new and upcoming bloggers
After 8 years of blogging and still having less than 200 followers to-date AND…I'm supposed to be giving advice? Oh God. Bwahahahhahahhaaa. Am I even qualified to give one? Bwahahhahahahahhaa
So you already know that I'm no expert in this domain and if you'd still want to hear some of my tips, here's my take:
Just do it. Choose WordPress. Write, even if you think it's shit. Be authentic. Then read and comment on other blogs. Leave your footprints and be nice. Share, pin, tweet and re-tweet – karma is a big thing in the blogging world. Always reply to those who comment on your blog. Participate in WordPress Blogging University as it is a great way to start building your community and rub shoulders with other bloggers. Take part in linkies and blogging challenges. Always credit your sources. Responding to awards is awesome, too!
I also learnt 7 other valuable somethings prior to the birth of Grubbs 'n Critters when I decided to switch platform and go self-hosted. It was the jolt I needed to propel through and I wrote in my Reflect and Ponder on Reflecting and Pondering post.
And if you are self-hosted, imbedding follow and social buttons on your site is a must. But! Whatever you do, please do not use Discuz for your comment box. God. Please.just.don't.
My nomination
There is no obligation to respond/accept as always. If you choose not to, then consider this as a shout-out from this end of the world because I do really, really like your blog. Like the award itself says, "Thank you for being a part of the blogosphere!"

That done, I hope this would make your day as it did mine.
Subsequently, I did mention three nominations and this other one requires a little bit more research and thinker as far as the rules go.
Stay tuned!