July 14, 2016
Trust the kids to have keen eyes in spotting the tiniest of bugs, insects and whatnots hiding in the bushes as we adults stay oblivious to our surrounding as we walk past them. (Funny how they cannot see the things we need them to see when those things are right in front of their noses!)
I've been amazed at the things they managed to spot and how excited they are when they find them, often asking lots of questions. We always stop for a few minutes to look closer, examine and lust at the wonder of nature. From slugs to snails, to all the different types and sizes of spiders to the various colours of the ladygub ladybugs we see. Even wasps and bees!
Spud and Squirt have both been very fascinated with spiders and ladybugs. Here are some of our beautiful find:
Cross Spider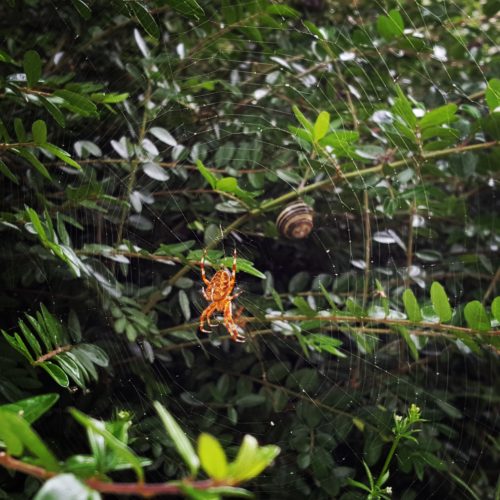 Known as the Kruispin in the Dutch language, it is a common garden or orb-weaver spider which tend to come out at this time of the year. Their colours range from light yellow to orange-brown or dark grey. All the European species having mottled markings across the back. This one that we saw has about five large white dots forming a cross and its size is about the size of a small tomato.
From my research, these Orb Spiders are known to eat their webs along with the small insect caught within the web every night within a couple of minutes! They would then spin a new one in the morning. I love how symmetrically delicate the web was designed here!
Source: NaturemappingFoundation
Ladybug or Ladybird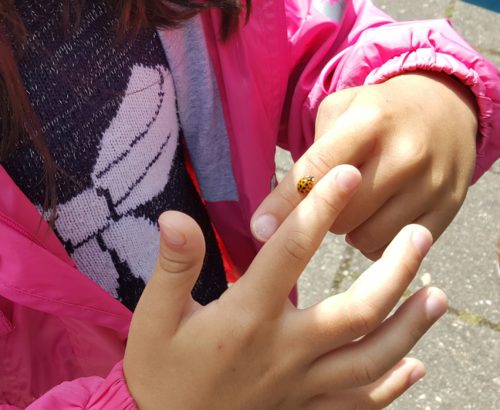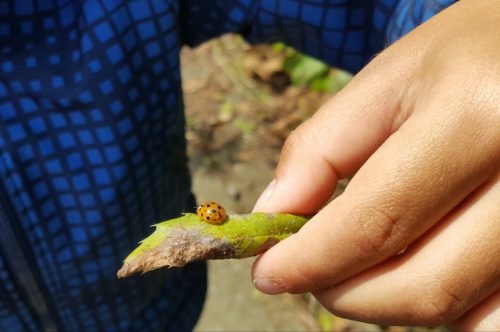 These little creatures are found usually on the leaves of the bushes, or at least that was where the kids spotted them. They are not even a bug, they are considered as beetles! Do you know that they are natural enemies of many insects like aphids, white flies and mites? Especially the aphids and for a tiny little bug, a single ladybug can eat as many as 5,000 aphids in its lifetime. Now that's a lot of aphids eaten. Cool, huh! They are not poisonous to human, but will release a toxic and smelly secretion if threatened.
Source: Wikipedia/Onekind.Org
Hedgehog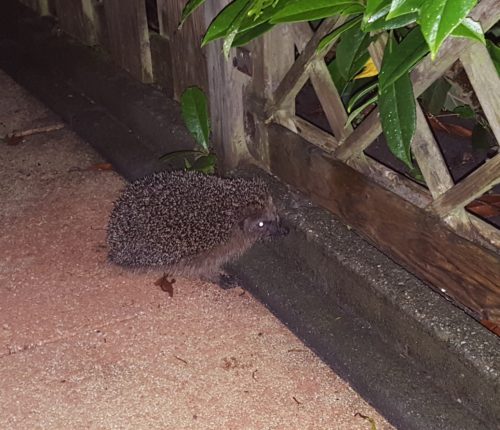 This little guy sneaked into our backyard one night. Cute little thing! Do you know that hedgehogs are born blind? The spikes or otherwise known as quills would only emerge through the skin after the protective membrane that covers the quills, dries, shrinks, cleaned or falls off.
Source: Read more on Wikipedia
The kids have so far, refused to touch the spiders which are usually harmless but when it comes to the ladybugs, the have no qualms handling them.
Squirt used to call those ladybugs "ladygub" when he was about a year old as he started to mouth his first few words. He could not pronounce "bug" and for a long time would call out ladygub. So we went with "gub" and to date, the term "ladygub" stayed. We used it intermittently as our term of endearment although Squirt has refused to acknowledge that these days.
It was a shame the kids missed the hedgehog though but got all excited when I showed them the picture the next day. It was my first time up, close and personal with a hedgehog, too! At first, I had thought that it was a rat a when I saw something scurrying in the dark across the open space. But surprise, surprise. Look who showed up! I was then left wondering if he was someone's pet hedgehog or just a wild one who seems to have lost his way or maybe, had thought that he'd adopt us as his newfound family.
Our backyard is a treasure trove. I'll draw the line at wasps, maggots and ants, though. Especially those darn ants! I wonder what else we would find as the season changes. I'm excited!