October 25, 2014
Long haul flights are getting easier, and as a mother of 2 rambunctious little imps who has had her fair share of "difficult" flight times with both kids, it is hard to imagine that I have gotten to a point where I would even acknowledge such a thing!
Yet, indeed, indeed, indeed! Our flight travels – be it short-haul or long haul-haul has gotten way easier. Sure, the kids have their moments when they acted up, but really, nothing which we could not handle. In fact, both kids behaved so darn well on our last trip to and from Holland that I managed to watch 4.5 movies on the way there, and bagged 2.5 more movies on our way back to Bangkok!
Who does that?! Truly impressive by my standards.
We have come a long, long way. These days, I find myself more relaxed to just let things be. When we fly, I tend to be the one to give in to things so as to keep the peace between us and the kids, as well as between us and the rest of the fellow passengers. I stopped agonising what other people would think of us if the kids are not on their best behaviour.
Kids are kids and then, there is so much you can do to keep them on a tight leash within a confined space. I always do apologise to the relevant adults when my kids misbehave (especially when I know that there are some who are just not too keen on the sheer sights of small kids), but I have also come to realise that some adults have been much more understanding to our predicament of having to handle 2 hyper kids on board a plane. I am humbled by the compassion of some of these passengers as well as the air crew who have exercised emphathetic tolerance towards our kids. (Actually, I have experienced adults behaving much worse than little tots while on a plane. I have no sympathies for these people as they ought to know what is appropriate and what isn't!)
That being said, we have also learnt that we need to be very well-prepared when it comes to travelling with our kids. For our own sanity, below are a list of things we usually come prepared with whenever we get on a plane:
1. Surprise Presents
Yes! We shamelessly bribe. That means, we go out of our way to buy them presents that are gift-wrapped. We would tell them that if they behave really, really well, there would be a nice little surprise for them mid-air. They usually get so excited at the thought of getting presents that they actually DO behave, and when they each got their little gifts, they got busy with them for hours on end, forgetting that their original existence was to create a din on board a flight.
2. Home-made meals
By now, we know how much they luuurve the airplane food that they would not bother even a sniff of their child's meal. They would rather starve than eat the meals we painstakingly pre-ordered prior to the flight. Hence, I usually make sure that I prepare home-made meals for them – food that they are familiar with and we could feed them without a fuss. They then could immediately raid the ice-cream, chocolates or candies that usually comes with their main meal without us stressing them further they had to eat their proper food.
3. Grubs
Snacks, snack, snacks.We pack enough to feed the whole plane, and I make no apologies for allowing them to snack whatever they feel like when they feel like it. It keeps them quiet, focused and occupied. At least for a good amount of time at any one time. From rice crackers to chocolates to candies; as long as they can stomach it, anything goes!
4. Electronic devices
This goes without saying. All bets limiting screen time are OFF during fight time! We pre-load stuff on a tablet and they get to watch all the kids' entertainment available on board. Within reason, they also get to press whatever buttons on their personal remote as much as they like. One must not every under-estimate the value of excitement that comes from the buttons of a remote control!
5. Garbs
We pack a good amount of garbage consisting of their favourite toys. Anything that would be able to keep them busy for period of time, at any point in time. The teddies that they sleep with every night are a must to bring along in our special carry-on.
6. Letting go of normal sleep time
I have long given up trying to get them to sleep at "normal hours" when we fly. They may be fighting sleep and get over-active, but I also know that there would come a time when they get so tired they would just crash. The only thing I needed to remind myself was to exercise lots and lots and lots of patience, for when they finally calm down and close their eyes, they would give us at least 4 hours of peace.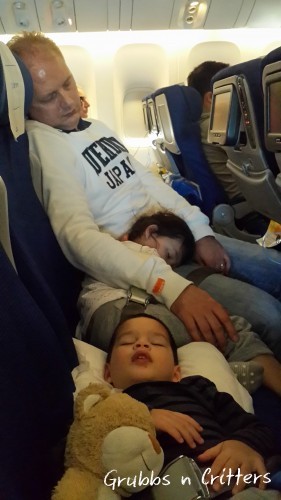 As a half-glass empty person, I always expect the worse and pretty much prepared myself for a no-sleep flight.Squirt does better with sleep versus Spud, and he gets all the room befitting of his tiny body while I usually get squashed up at the corner. Spud, meantime, would prefer to stay awake throughout; if only she could.
The kids do drain me out when we travel, but as they get older, things do get a little easier. Dare I say that flying has become slightly more enjoyable again!